How Well Do You Know Your Friends?
Win points by guessing how fellow players voted on some mind-bending, spicy, controversial questions!
"I thought I would easily predict the way my friends would answer, but I was often surprised. Makes for great conversation."
"Triggers gives you a platform where you can argue about some of the most sensitive issues without feeling awkward because that's the game!"
"A fun party game... and a great way to find out all kinds of weird things about your friends."
"Triggers is a very deep game with ingeniously simple mechanics... no two sessions are the same!"
"Thanks for making social gatherings social again!"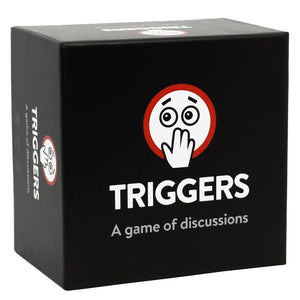 TRIGGERS: A game of discussions
Sale price Price $29.99 Regular price
WE WANT TO HEAR FROM YOU.
TRY THE FREE DEMO.
Got a printer and a pair of scissors? Download your free copy of our print and play demo. It includes enough content for about 5 hours of play.
Get the free demo by email

This work is licensed under a Creative Commons Attribution-NonCommercial-ShareAlike 4.0 International License.
You can use, remix and share the game for free, but you can't sell it without our permission or steal our name. TRIGGERS® is a registered trademark of Lajbro Games.